"

...will raise the little hairs on the back of your neck."
— No Depression
"

...Duke's bluesy voice will get you."
— CBC Music
"

"Duke's voice is husky with experience...the guitar is jangly, and the beats head-bopping...""
— That Eric Alper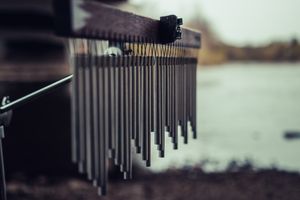 bio
Sammy Duke is an unmistakable presence the moment he starts performing onstage. Called a "troubadour prog-rock[er]" (No Depression Magazine), Sammy Duke enchants audiences with his infectious live energy, spontaneous spurts of crowd participation, his self-deprecating wit, and thought-provoking lyrics in his rootsy, folk-fusion music that blends elements of world-beat, rock and soul. 
Sammy Duke released his first full-length album 'Terminus' in 2018, with funding from the Region of Waterloo Arts Fund. He recorded the album with Ian Graham at Small Dog Studios in Kitchener - an off-the-grid, solar powered recording studio. In early 2021, he received another Arts Fund grant to record his next album 'Speed of Life' - which was released in July 2022, also recorded and mixed by Ian Graham. Sammy also released a music video for the album track 'Calling You Home' in Winter 2021 before the album's summer launch.
Sammy Duke has performed at clubs, halls, festivals and theaters nationally across Canada, and internationally in both solo and sideman capacities. He has also appeared on a number of television and radio shows; including Rogers TV, Global TV, Breakfast Television, CBC Radio One, and CP24 Breakfast Weekend - the last of which tweeted "Our jaws are still dropped from the incredibly talented @sammydukemusic performance this morning!"  
In either solo or sideman roles, Sammy Duke is highly recognized for his multi-instrumental abilities; literally playing up to EIGHT instruments simultaneously. He performs his own music as a one-man-band in which he sings, plays guitar, foot synthesizer, foot percussion, and even his elbow in the case of his famed 'elbow chimes'. As a sideman, he is most recognized touring with Indo-Tanzanian Canadian songwriter and producer Alysha Brilla; with whom he performs a 'one-man-rhythm section' on bass, cajon, and a variety of other percussion pieces while singing backup vocals. Duke has also recorded on all three of her JUNO nominated albums (In My Head, Womyn, and ROOTED) and her recently released album, 'Circle' (2022). 
With a growing reputation for an "unorthodox playing" of instruments, thoughtful lyrics, and an absolutely unmistakable live show, Sammy Duke is a must see performer. "And if you're still not convinced, Duke's bluesy voice will get you." (CBC Music)
----------------------------------------------
From Eric Alper on  'Speed Of Life':   
"Using imagery from a real-life motorcycle ride heading southbound towards Lake Erie, Duke sings of chasing the horizon on a long-and-winding journey rife with highs and lows. He leaves the city's concrete jungle behind, along with the billboards and neon signs and all the information overload that leads only to complications. Soon, we're in nature on the bike beside him, experiencing the fear and exhilaration of roads unknown.  
Duke's voice is husky with experience, but the guitar is jangly, and the beats head-bopping and upbeat, and so we begin to have faith that this journey just might lead us to somewhere okay." 
GENERAL INQUIRIES, EDUCATION WORKSHOPS AND BOOKINGS: sammyduke@sammyduke.com 
Or fill out the contact form: